Puchar Stanleya to imponujące trofeum przyznawane zdobywcy mistrzowskiego tytułu w najlepszej hokejowej lidze świata czyli National Hockey League. Nosi on kilka nazw "The Holy Grail", "The Stanley's Myg" czy po prostu "The Cup".

O puchar od 1893 roku rywalizują hokejowe drużyny z Kanady i Stanów Zjednoczonych. Puchar przechodni, który otrzymuje najlepsza drużyna rozgrywek, został ufundowany przez lorda H.M. Stanleya w 1893 roku. Od 1926 roku, czyli od powstania NHL, zdobywcą Pucharu Stanleya zostaje najlepsza drużyna ligi. Zdobywca pucharu nie otrzymuje go na stałe. Oryginał jest przechowywany w Sali Sławy Hokeja w Toronto. Nazwa zwycięskiego klubu i nazwiska zawodników są wygrawerowane na duplikacie, który również znajduje się w Sali Sławy, ale jest z niej usuwany podczas finałowych rozgrywek Pucharu.

Puchar Stanleya jest najstarszą nagrodą przyznawaną w całym profesjonalnym sporcie w Ameryce Północnej. Był on wręczany już od 1910 roku lecz dopiero w roku 1915 zawarta została umowa pomiędzy przedstawicielami dwóch profesjonalnych hokejowych organizacji - NHA [National Hockey Association] i PCHA [Pacific Coast Hockey Association]. Umowa gwarantowała iż mistrzowie każdej z tych organizacji będą spotykać się w meczu, który definitywnie wyłoni zdobywcę trofeum. Kolejne zmiany w strukturach lig (rok 1926 kiedy to NHL zrzesza już 6 zespołów z tzw. Original Six) sprawiły, że Puchar Stanley'a jest jedyną godną tego tytułu nagrodą. Dwie dekady później - w roku 1947 - Puchar stał się oficjalnym trofeum przyznawanym mistrzowi NHL.

Puchar Stanley'a waży 14,5 kg i ma 89,5 cm wysokości.
Najwięcej razy trofeum zdobyli hokeiści kanadyjskich zespołów: Montreal Canadiens - 24 i Toronto Maple Leafs - 13. Pittsburgh Penguins zdobywali to trofeum pięciokrotnie w 1991, 1992, 2009, 2016 i 2017 roku.

LISTA ZDOBYWCÓW PUCHARU STANLEY'A
Poniżej przedstawiamy mistrzowskie lata sezonu play-off, w których klub z Miasta Stali był najlepszy, wraz z z listą zawodników, kórzy wywalczyli Puchar:
2017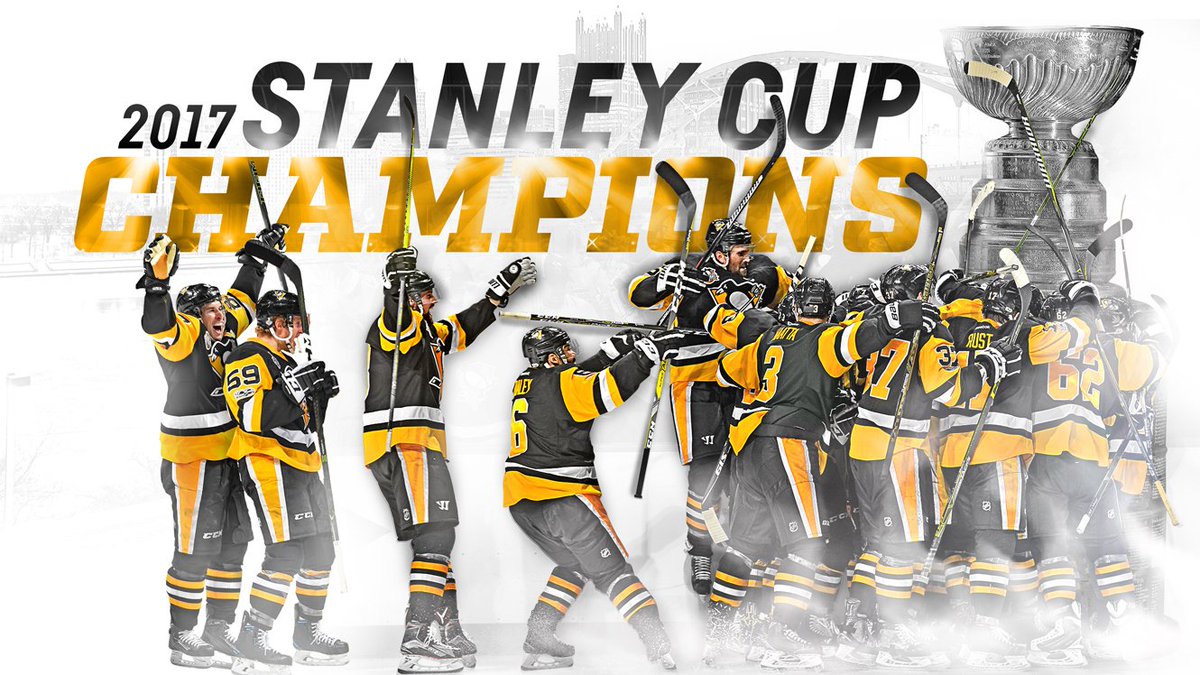 1. runda: Pittsburgh Penguins - Columbus Blue Jackets 4-1
2. runda: Pittsburgh Penguins - Washington Capitals 4-3
3. runda: Pittsburgh Penguins - Ottawa Senators 4-3
Finał: Pittsburgh Penguins - Nashville Predators 4-2
Skład: Marc-Andre Fleury, Matthew Murray, Jeff Zatkoff - Olli Maatta, Ian Cole, Trevor Daley, Ron Hainsey, Brian Dumoulin, Justin Schultz, Mark Streit, Chad Ruhwedel - Evgeni Małkin, Chris Kunitz, Bryan Rust, Conor Sheary, Tom Kuhnhackl, Matt Cullen, Jake Guentzel, Scott Wilson, Nick Bonino, Phil Kessel, Carl Hagelin, Josh Archibald, Carter Rowney, Patric Hornqvist, Sidney Crosby "C"
GM: Jim Rutherford - Trener: Mike Sullivan


2016


1. runda: Pittsburgh Penguins - New York Rangers 4-1
2. runda: Pittsburgh Penguins - Washington Capitals 4-2
3. runda: Pittsburgh Penguins - Tampa Bay Lightning 4-3
Finał: Pittsburgh Penguins - San Jose Sharks 4-2
Skład: Marc-Andre Fleury, Matthew Murray, Jeff Zatkoff - Kristopher Letang, Olli Maatta, Ian Cole, Trevor Daley, Ben Lovejoy, Brian Dumoulin, Justin Schultz, Derrick Pouliot, Steve Oleksy - Evgeni Małkin, Chris Kunitz, Bryan Rust, Conor Sheary, Tom Kuhnhackl, Matt Cullen, Pascal Dupuis, Kevin Porter, Nick Bonino, Phil Kessel, Carl Hagelin, Eric Fehr, Beau Bennett, Oskar Sundqvist, Patric Hornqvist, Sidney Crosby "C"
GM: Jim Rutherford - Trener: Mike Sullivan


2009


1. runda: Pittsburgh Penguins - Philadelphia Flyers 4-2
2. runda: Pittsburgh Penguins - Washington Capitals 4-3
3. runda: Pittsburgh Penguins - Carolina Hurricanes 4-0
Finał: Pittsburgh Penguins - Detroit Red Wings 4-3

Skład: Marc-Andre Fleury, Mathieu Garon, Dany Sabourin - Philippe Boucher, Mark Eaton, Hal Gill, Alex Goligoski, Sergei Gonchar, Kristopher Letang, Brooks Orpik, Rob Scuderi - Craig Adams, Matt Cooke, Pascal Dupuis, Ruslan Fedotenko, Eric Godard, Bill Guerin, Tyler Kennedy, Chris Kunitz, Evgeni Malkin, Chris Minard, Miroslav Satan, Jordan Staal, Petr Sykora, Maxime Talbot, Michael Zigomanis, Sidney Crosby "C"
GM: Ray Shero - Trener: Dan Bylsma


1992


1. runda: Pittsburgh Penguins - Washington Capitals 4-3
2. runda: Pittsburgh Penguins - New York Rangers 4-2
3. runda: Pittsburgh Penguins - Boston Bruins 4-0
Finał: Pittsburgh Penguins - Chicago Blackhawks 4-0

Skład: Wendell Young, Ken Wregget, Tom Barrasso, Frank Pietrangelo - Jim Peak, Grant Jennings, Gord Dineen, Ulf Samuelsson, Jeff Chychrun, Paul Stanton, Kjell Samuelsson, Gordie Roberts, Peter Taglianetti, Todd Nelson, Larry Murphy, Paul Coffey - Joe Mullen, Mark Recchi, Bob Errey, Jock Callander, Jay Caufield, Jamie Leach, Troy Loney, Kevin Stevens, Phil Bourque, Dave Michayluk, Jeff Daniels, Mike Needham, Jaromir Jagr, Rick Tocchet, Ron Francis, Shawn McEachern, Ken Priestlay, Bryan Trottier, Jiri Hrdina, Glenn Mulvenna, Mario Lemieux "C"
GM: Craig Patrik - Trener: Scotty Bowman


1991


1. runda: Pittsburgh Penguins - New Jersey Devils 4-3
2. runda: Pittsburgh Penguins - Washington Capitals 4-1
3. runda: Pittsburgh Penguins - Boston Bruins 4-2
Finał: Pittsburgh Penguins - Minnesota North Stars 4-2

Skład: Wendell Young, Bruce Racine, Tom Barrasso, Frank Pietrangelo - Jim Paek, Grant Jennings, Ulf Samuelsson, Paul Stanton, Randy Hillier, Gordie Roberts, Peter Taglianetti, Larry Murphy, Paul Coffey - Ron Francis, Barry Pederson, Randy Gilhen, Bryan Trottier, Jiri Hrdina, Joe Mullen, Mark Recchi, Bob Errey, Jay Caufield, Troy Loney, Kevin Stevens, Phil Bourque, Scott Young, Jaromir Jagr, Mario Lemieux "C"
GM: Craig Patrick - Trener: Bob Johnson